Print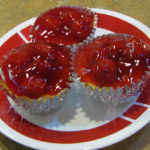 These little cheesecakes topped with cherry pie filling make a fun dessert that is quick and easy to make.
Preheat oven to 350°. Line 18 muffin cups with foil liners. Place a vanilla wafer in each cup

In a medium bowl, mix cream cheese, eggs, sugar, lemon juice, and vanilla until smooth.

Pour mixture over wafers; filling each cup ¾ full.

Bake for 25 to 30 minutes or until batter is firm.

Cool and top with cherry pie filling. Refrigerate 2 hours before serving.