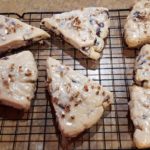 Blueberry-Pecan Scones
If you are looking for a melt-in-your-mouth breakfast treat, this scone recipe is just the ticket. I like to freeze the leftovers and then pop in microwave for a quick breakfast.
Ingredients
Ingredients

2

cups

all-purpose flour

1/4

cup

sugar

2

teaspoons

baking powder

1/4

teaspoon

salt

1/2

cup

1 stick very cold butter, cut into small pieces

1

cup

heavy cream

1/2

teaspoons

pure vanilla extract

1

cup

berries

1

cup

pecans

Glaze

2

cups

powdered sugar

2

tablespoons

butter

softened

1

teaspoon

vanilla

half-and-half
Instructions
Instructions

Preheat oven to 375°F.

Whisk flour, sugar, salt, and baking powder together in a large bowl.

Add butter to the flour mixture and combine with a pastry cutter or fork until the

mixture comes together in pea-sized crumbs.

Add heavy cream and vanilla extract together in a small bowl. Drizzle over the flour

mixture, then mix until moistened. If it's too sticky, add a little more flour. If it seems

too dry, add 1-2 more tablespoons heavy cream.

Pour dough onto the counter and, with floured hands, work dough into a ball.

Press into an 8-inch circle and, with a sharp knife, cut into 8 wedges.

Place scones on a lined baking sheet. Bake for 15-20 minutes or until light brown

around the edges and lightly browned on top.

Remove from the oven and place on cooling rack.

In a bowl, whisk together sifted powdered sugar, vanilla extract, and enough half-and-

half to thin the glaze to your desired consistency for pouring over scone.

Glaze cooled scones and top with nuts.